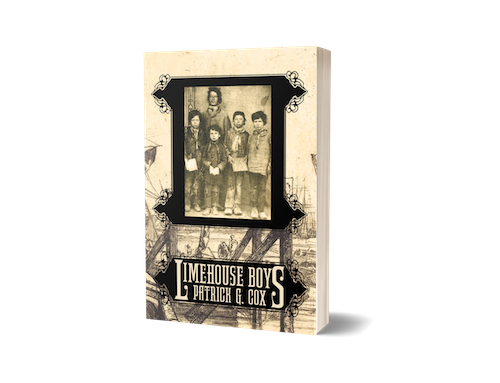 Inspired by research into the social conditions in the East End of London, this story grew out of the realisation that those born into poverty in the London environs in the 1830s were likely to live rather short, and possibly brutal lives of hardship. According to some accounts there was one prostitute for every eleven men, with many women left with no choice but to sell themselves. A similar situation faced many boys. When you add in the criminal gangs who controlled much of what passed for opportunities for the working poor, the picture becomes even more bleak.
Exploitation by employers, by criminals, and by officials was rampant. Boys could be plucked from the orphanages and 'apprenticed', often a mask for something else. Girls could be recruited to service in the 'big houses' in the prosperous West End, and for the rest there was work, if they could get it, in the factories -- usually at pittance wages. Children as young as 5 could be found sweeping under machines, or working in factories producing products such as matches, candles, hat felt, even gunpowder, and many didn't make it past their teens. It was on their labour that the industrial wealth of Britain was created.
Book Description
The East End of London in the early 1830s provides the background to this thrilling tale of hardship, criminal activity, determination and courage.
When young Ned Farrier is committed to the Shadwell Workhouse, he is thrust into a regime of harsh punishment and corruption orchestrated by the local Beadle, who has spent years enriching himself at the expense of widows and orphans, making several enemies in the process. Beadle Hewlett has earmarked Ned and his friends George and Ben as prime recruits for his unsavoury trade, but a daring plan triggers a chain of events that ultimately leads to their finding a new life on the sailing barges that ply the Thames Estuary. Meanwhile, Mick Howell, Ex-Master's Mate of the British Royal Navy, is determined to avenge his brother's suffering at the hands of the Beadle's partners in crime. Mick and his friends join forces with the Reverend Mr Short, Rector of St Anne's Limehouse, to bring the Beadle and his cohorts to justice and to help his victims build new lives.
Ebook ISBN 978-0-9860953-5-1
Paperback ISBN 978-0-9860953-4-4
FIC014000—Historical Fiction
FIC022060—Fiction Mystery & Detective Historical
FIC050000—Fiction Crime
Keywords: 19th century British history, Dickensian London, England in the 1800s, London workhouses, workhouse history, child poverty in 19th century Britain, London street urchins, 19th century British detective mysteries, Thames sailing barges