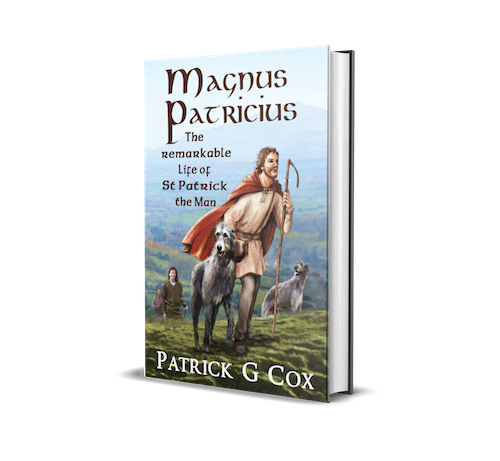 I first encountered the story of St Patrick as a child, my grandfather having been born within a mile of where the saint is said to share a grave with St Colomba (Columcil) of Bangor and St Bridget in the grounds of the cathedral of the Holy and Indivisible Trinity in Downpatrick. There are many legends concerning him and his life, and almost as many books written about him, some turning him into a sort of 'super druid', others into a magical figure. The best study him as a missionary and bishop, but how much do we really know about him and his life?
To really get to grips with him, you need to study the age in which he lived, an age somewhat like our own in that it was a period of major social upheaval as the Roman Empire retreated, and their subject peoples and cultures reasserted themselves. Two documents that are authentically his in origin (unfortunately only copies survived the centuries) the first being his 'Declaration', thought to be a response to accusations brought by his enemies (and he had several) and the second being his Letter to the Soldiers of Coroticus in which he essentially excommunicated Coroticus and all his followers (how to make enemies in the major league!).
Then there are the traces of him in legends in the North and West of Ireland, one of which I had dismissed as nonsense until a doctor friend pointed out that it made sense if one thought of an aging man, abused and malnourished in his key years of youth and now suffering as an old man. That is the legend that Cartan (or Macartan) carried him from place to place.
This book is written as my tribute to a remarkable man. A very human saint. I have written it as a fictional biography, filling in the gaps in what we 'know' with my imagination based upon the social, cultural and historical practices of the time.
Book Description
 
St Patrick is the most well-known saint in the world, but who was St Patrick, the man? Magnus Sucatus Patricius was born to a wealthy family of minor Romano-British nobility. Captured by the Scotti (the Irish) when he was sixteen, he endured six years of slavery before making his way to home and freedom. He eventually returned to minister to the people who had enslaved him. This young man of nobility and property foreswore everything—life, birthright, comfort, and home—to serve God. There were several attempts on his life and on his person, but he survived them all. Thanks to his writing, his is the one authentic voice we have from fifth-century Britain. Open the pages of Magnus Patricius: The Remarkable Life of St Patrick, the Man, and walk in his humble footsteps through slavery, freedom, marriage and fatherhood, and a ministry built on the practical expression of Christian faith and love.
ISBNs:
Paperback ISBN 9780997602166
Hardback ISBN 9780997602173
Ebook ISBN 9780997602180
FIC041000    FICTION / Biographical
FIC042030    FICTION / Christian / Historical
REL110000   RELIGION / Christianity / Saints & Sainthood
Keywords:
St Patrick, history of Ireland, books about St Patrick, the life of St Patrick, biography of St Patrick, Irish history, St Patrick and Irish history, StorytellerUK2019
A Nice Compliment

I found it a fascinating read as I knew nothing of the life of St Patrick before reading this book. I enjoyed the fact that the story was told in the first person, finding that it added authenticity to the tale and helped the reader to feel as if they actually knew the man. It is a well written and enjoyable book that helps the reader to understand the hardships of life in the 5th century. The fact that it is a work of biographical fiction means that some facts have been added by the author to create a more captivating and compelling story and to help history come to life. However the fact that St Patrick was a humble and deeply religious man needs no accentuating and comes across clearly in this story about a man who was without doubt a hugely significant pioneer of Christianity.